Hunter's Moon Remastered
A downloadable Commodore 64 game for Windows

Memlog Hunter.10/thmw1: 'Lost in space. Surrounded. Strange structures that build themselves – hive-like. And at their core, alien starcells... Must get home. Back to Hunter's Moon. Must... survive! Am attacking now – full thrust – cannons locked in – FIRE!' Little do you know what you face: over 180 levels of galactic mayhem. Hope you are a CLEVER psychoblaster – or else...'


Originally released in 1987, Hunter's Moon is a strategic shoot 'em up set in deep space. Beautifully presented and thoughtfully designed, the game became an instant classic thanks to its measured balance of strategic planning and psychotic blasting. Boasting one of the earliest uses of procedurally-generated content in a computer game, Hunter's Moon pushed the boundaries of the genre and helped redefine what a shoot 'em up could be.

Hunter's Moon Remastered is a fully remastered, overhauled, and updated version of the seminal C64 shoot 'em up. The game has been remastered for C64 cartridge and boasts a host of amazing new features including over 50 new levels, 5 new star systems, new level types, new music, new playing modes, stunning intro and outro sequences, built-in level editor, and enhanced presentation including foreign language support.

After flying your trusty ship Hunter too close to a black hole, you find yourself lost in space on the wrong side of the galaxy, surrounded by sprawling, hive-like cities. At the core of each city lie mysterious alien Starcells – these contain valuable navigational data and must be collected to plot a course back home.

The aim of each level is to blast through the hive and grab the Starcells, a task made more challenging by the invincible Worker cells which patrol the cities repairing any damage inflicted. These Workers also bring the hive's defenses to life, causing them to spew deadly spores that can only be resisted by using your ship's trusty Perma-Shields.
The game features over 180 levels spread across 21 star systems. When all the Starcells on a level have been collected you'll enter the Bonus Game where you can earn a Perma-Shield and an extra life. You must complete every level within each star system to advance to the next; however, should you manage to collect four flashing Starcells you'll automatically jump to the next system.
As you progress through the different star systems you'll encounter an array of diverse and challenging hive types, including Attackers that throw out deadly spores, Darkcells which are only visible on radar, Switchers that change direction without warning, Jumpgates which jump to random locations, and Blackouts which plunge the hives into darkness.
Do you have the dexterity, precision timing and psychopathic blasting skills to find your way home to Hunter's Moon...?

Over 180 levels spread across 21 Star Systems
New level types including Jumpgates and Blackouts
Trainer Version designed for novice players
All-new Random Mode to test seasoned veterans
Automatically save your game progress as you play
Stunning new intro and outro sequences
New in-game music and enhanced parallax starfield
Built-in Level Editor to craft your own cunning creations
Multi-language support for French, German, Italian, and Spanish
Bonus: Original 1987 version also included in the game
Full PAL & NTSC compatibility (Remastered Version only)

"One of the most original and imaginative
shoot 'em ups ever released for the 64."
Commodore Format
"I'm always a sucker for shoot 'em ups, especially when they're
as good-looking, innovative and as challenging as this."
Zzap!64
"It's a blaster without equal: a beautifully-crafted
combination of puzzle game and pulsating action."
Gordon Houghton, Lemon64
"Head and shoulders above the masses
of shoot-'em-ups currently on the market."
The Games Machine

MARTIN WALKER
Design, code, graphics, and SFX
MATT GRAY
Game soundtrack
DAN HOTOP
Remastering and additional code
ROBIN LEVY & MARTIN PIPER
Cinematic sequences
STE DAY
Additional graphics
ANDY ROBERTS
Production & inspirational input
OLIVER FREY
Cover artwork and illustrations

The downloadable C64 digital version is designed for use with a C64 emulator – it cannot be used with an EasyFlash cartridge, 1541 Ultimate, or Turbo Chameleon. We strongly recommend playing the game using VICE 3.1+, a popular emulator which is compatible with Windows, Mac, and Linux.
Therefore, there are two downloadable versions, one containing the game files, the other containing the game files plus a version of the VICE emulator. Both versions include a simple .BAT file to make running the game much simpler. Please be sure to consult the README file for more information.

The cartridge version of Hunter's Moon Remastered will be available in late 2018 exclusively from Protovision. The basic package will include a cartridge, game manual, cover art postcard, and Thalamus sticker.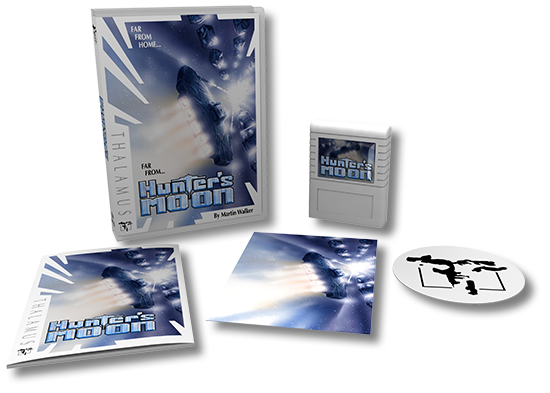 | | |
| --- | --- |
| Updated | 27 days ago |
| Status | Released |
| Platforms | Windows |
| Rating | |
| Author | Thalamus Digital Publishing Ltd. |
| Genre | Shooter |
| Tags | 8-Bit, Commodore 64, hunters-moon, martin-walker, Shoot 'Em Up, thalamus |
| Average session | A few minutes |
| Languages | German, English, Spanish; Castilian, French, Italian |
| Inputs | Keyboard, Gamepad (any), Joystick |
Purchase
In order to download this Commodore 64 game you must purchase it at or above the minimum price of $12.99 USD. You will get access to the following files:
Hunter's Moon remastered (C64 Binaries Only)
19 MB
Hunter's Moon remastered (C64 Binaries and VICE)
40 MB
Comments
Log in with itch.io to leave a comment.
hi how long will it be before protovision will have the cartridge to sell please?
Can this game be played on the c64 mini?
Hey , just confirming the cart version will play on a normal breadbin C64?
Hi. Is there a way to convert the .bin and .eep files into something more common like .crt? I purchased the game yesterday, but would like to be able to play it on Virtual C64 on my Mac and VICE on my Raspberry Pi (RetroPie).
The included files should work with VICE no problem (see the README file contained in the package). We're putting together a step-by-step guide for Mac users.
is there anyway we can get this running on a emulator to play on the c64?
Our products are designed and developed for C64 cartridge - this is the recommended format for playing the game on a real C64.
Thanks for the reply i will buy the cartridge when it gets released as i really want to play on the level designer as its only the basic game on the pc one i have downloaded from yourselves.